Check out this apple recipe roundup! It's a collection of the best recipes featuring my favorite fall fruit- apples. From breakfasts to salads to craveable desserts, there's something for everyone!
Nothing says fall like crisp, sweet apples! I have fond memories of going apple picking as a child growing up in New York. It was always fun getting back home and cooking up delicious apple donuts, apple muffins, and even apple chips.
Now that I live in South Florida, I don't get to experience the change of seasons very often. But when autumn rolls around, I still crave my favorite fall ingredients. And at the top of that list is apples!
So I've put together a collection of some of my favorite amazing apple recipes. From hearty breakfast dishes to savory salads to craveable desserts, there's something for everyone in this apple recipe roundup!
Some of My Tasty Apple Recipes:
Spiced Apple Muffins
These Spiced Apple Muffins are packed with sweet apples and warm fall spices, and topped with an irresistible cinnamon sugar topping. These tasty muffins are the perfect healthy snack and are so easy to make.
Get This Recipe!
Baked Apple Cider Donuts
These delicious Baked Apple Cider Donuts are baked in the oven and dusted in cinnamon sugar- they're the perfect fall treat!
Get This Recipe!
Slow Cooker (Crockpot) Apple Crisp
My Slow Cooker Apple Crisp is a delicious dessert that will feed a crowd and is so easy to make- no need to even turn on the oven. Sweet apples are cooked until tender in a slow cooker with cinnamon and sugar and topped with a crumbly oat topping. Can be made gluten free and vegan too.
Get This Recipe!
Apple Dutch Baby
Get ready to fall in love with this delicious Apple Dutch Baby, a skillet pancake that puffs up gloriously in the oven as it bakes. Featuring sweet, caramelized apples cooked with cinnamon and brown sugar, serve this elegant breakfast dish straight from the oven with a dusting of powdered sugar.
Get This Recipe!
Crock Pot Mulled Cider
This Crock Pot Mulled Cider is the perfect drink to warm you up on a cold day, especially during the holiday season. It's the ideal drink for entertaining and will make your kitchen smell wonderful as it simmers away in the slow cooker.
Get This Recipe!
Tuscan Kale and Apple Salad
Fresh, clean ingredients with contrasting flavors and textures come together in this visually stunning kale salad.
Get This Recipe!
Blueberry Apple & Walnut Baked Oatmeal
Oats, walnuts, blueberries, and apples are baked together in this hearty breakfast dish that's so good it almost tastes like dessert!
Get This Recipe!
Healthy Apple Cranberry Crisp
Bursting with fresh, sweet apples and tart, ruby red cranberries, my Healthy Apple Cranberry Crisp is a guaranteed crowd pleaser! This dish is easy to make and can be assembled in advance- it's perfect for the holidays or anytime you're entertaining.
Get This Recipe!
Some of my favorite apple recipes from my fellow bloggers.
Slow Cooker Apple Pie Steel Cut Oats - Dishing Out Health
Slow Cooker Apple Pie Steel Cut Oats are the ultimate make ahead breakfast. Whole-grain and low sugar, this slow cooker oatmeal tastes like apple pie.
Get This Recipe!
Butternut Squash Apple Soup - The Gourmet RD
Butternut squash apple soup with ginger, nutmeg, coconut milk, balsamic vinegar, maple syrup & cayenne. Stove-top and Instant Pot recipes!
Get This Recipe!
Apple Ricotta Cake with Miso Caramel — Feed The Swimmers
This cake whips up so quickly, bakes like a dream and is adored by all! I recommend using a Granny Smith or Crispin- flavorful, tart and sweet.
Get This Recipe!
Apple Crostini with Fig Jam and Pecorino - Pinch and Swirl
Apple Crostini with Fig Jam and Pecorino are a party pleasing appetizer! With just a few simple ingredients you can find at your local grocery store, you'll have these made and served in minutes.
Get This Recipe!
Salted Bourbon Caramel Apple Cinnamon Buns - Irene Matys
These cinnamon buns are so fluffy and so so delicious. They're filled with brown sugar and cinnamon, baked with sautéed apples and finished with a salty bourbon caramel sauce.
Get This Recipe!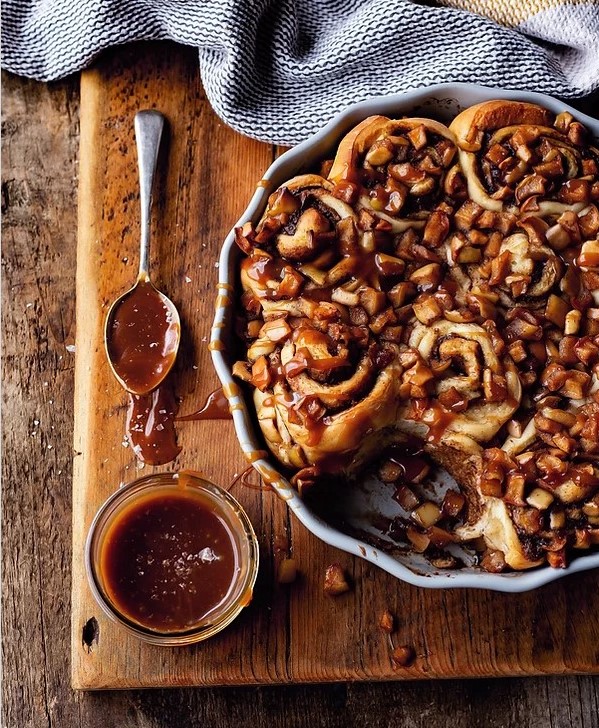 Fall Margarita - The Gastronom
This Fall Margarita is a combination of tequila, jalapeno infused triple sec, apple cider, rosemary and ginger. This easy fall apple margarita is on the rocks!
Get This Recipe!
Apple Pecan Farro Salad - Marisa Moore
This apple pecan farro salad with apple cider vinaigrette is an easy, vegan lunch or dinner and perfect for fall and winter!
Get This Recipe!
Instant Pot Apple Chutney - Cook With Manali
Vegan Apple Chutney made in the Instant Pot! This chutney is easy to make and goes well with anything and everything!
Get This Recipe!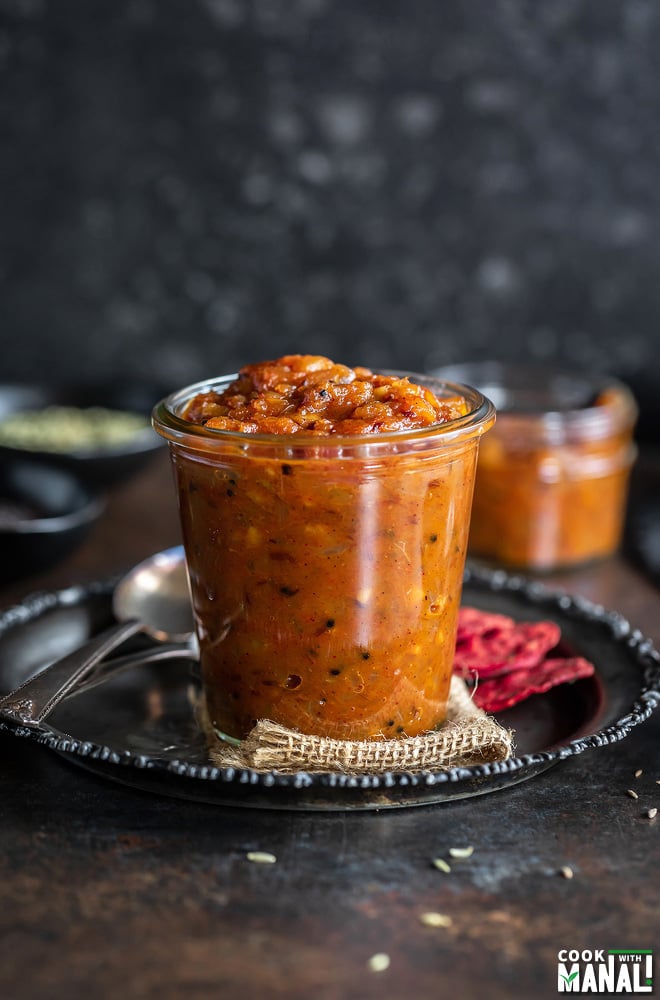 Skillet Apple Crisp - Kitchen Swagger
Classic apple crisp recipe served warm with vanilla ice cream. It's the ultimate sweet, tart, and creamy dessert made in a cast iron skillet.
Get This Recipe!
Apple Cider Caramel Popcorn - Wright Family Table
Caramel corn is one of my family's favorite treats, and some of my best memories growing up involve all of us in the kitchen popping popcorn, stirring the caramel, and piling our bowls high with sticky goodness once it was complete.
Get This Recipe!
Gluten-free Apple Pancakes - Something Nutritious
Gluten-free apple pancakes are easy to make and a delicious whole-grain breakfast! Serve them with walnuts and your favorite sweetener.
Get This Recipe!
Apple & Candied Ginger Loaf Cake — The Daley Plate
This is a simple treat that I like to make when apples become available. It's really good with a cup of coffee- not too sweet but delicious.
Get This Recipe!
Roasted Carrot Apple Soup - Chelsey Amer Nutrition
Enjoy a cozy bowl of Roasted Carrot Apple Soup that's creamy, silky smooth and full of sweet and savory flavor, with a hint of heat!
Get This Recipe!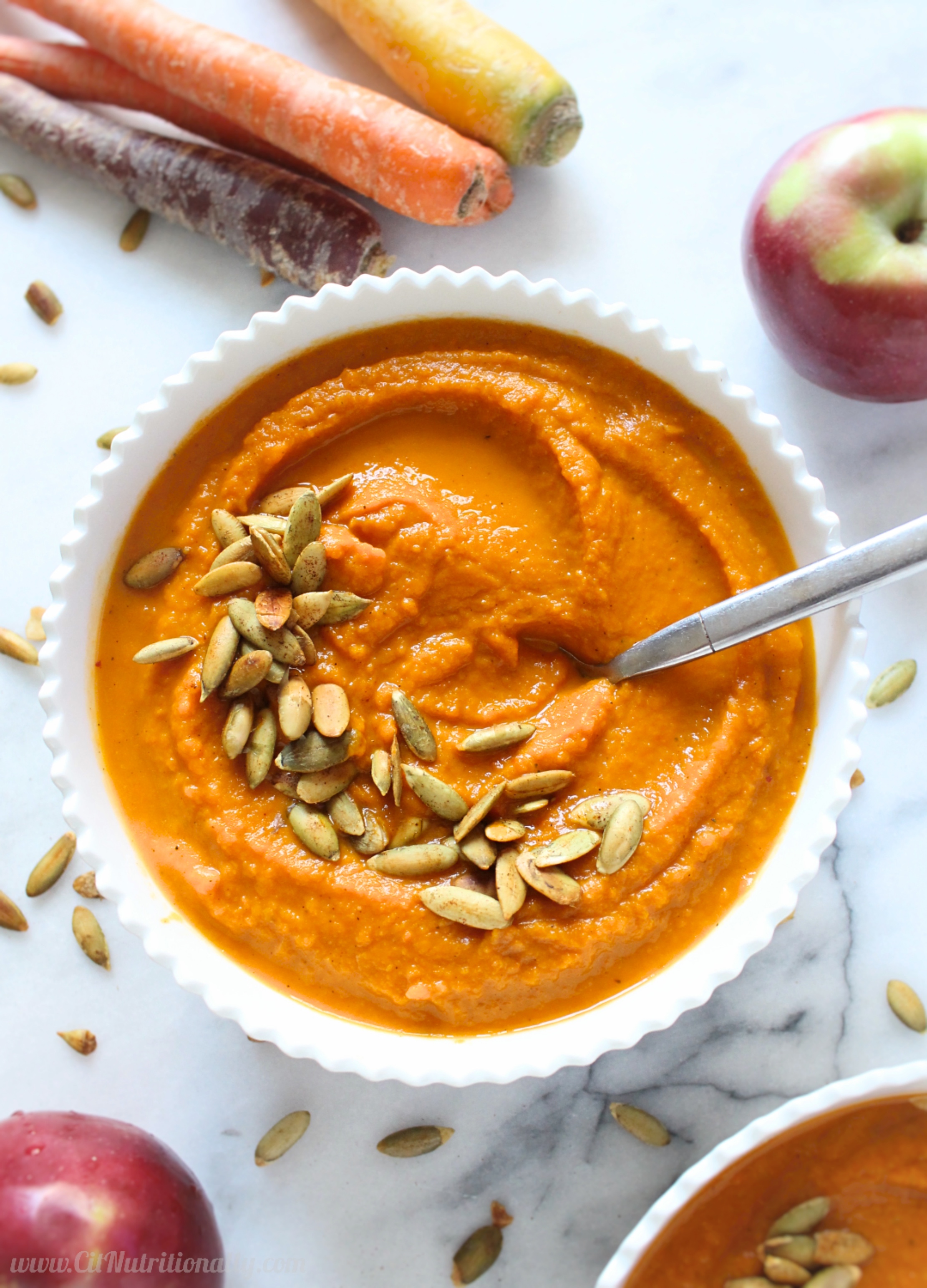 Apple Cider Sangria - Seasonal Cravings
This Apple Cider Sangria is bursting with fall flavors. Sweet, spicy and full of wine soaked fruit, it's sure to be a hit at all your fall celebrations.
Get This Recipe!