Packed with protein and fiber, these vegetarian Curried Coconut Lentil Stuffed Sweet Potato Bowls are the perfect plant-based bowl!
I wanted to think outside of the box with this month's Recipe Redux theme, Plant Protein Power Bowls. We were challenged to create a healthy plant-based bowl packed with protein, fiber and color.
Not only are plant power bowls all the rage right now, they're also delicious, nutritious and easy to make. Plus, they're a great way to empty out your fridge!
My first thought was to create a grain bowl because I make power bowls quite often. However, I usually with grains like quinoa, brown rice or farro as the base.
But as I said before, I wanted to challenge myself and do something a little different this time. I started thinking about making an edible bowl like the bread bowls you get with soup at some restaurants.
But what could I use as the perfect bowl for my dish? I decided on… sweet potatoes! Packed with nutrients, flavor and color, sweet potatoes are the perfect edible bowl.
I simply roasted the sweet potatoes on a baking sheet in the oven until soft. Then I cut an opening in the top and spread them open, mashing the flesh a bit to soften it.
To fill my yummy sweet potato bowls, I decided to use lentils, an excellent plant-based source of protein. These little powerhouses are so versatile, the United Nations even declared 2016 the year of the pulses!
In case you're not familiar with the term, pulses refer to dry peas, beans, lentils, and chickpeas. Not only are they nutritious, they're also versatile, affordable, sustainable, and delicious.
They're packed with fiber, protein, and antioxidants as well as several essential vitamins and minerals including iron, folate and potassium.
I had a bag of French green lentils (also called lentils du Puy) in my pantry, so I decided to use them in this dish and they worked perfectly. French green lentils are a little firmer than traditional lentils, and they retain a nice bite when they're cooked.
They're perfect for dishes like salads when you don't want any mushiness. I like them in this dish because the sweet potatoes are soft, so the lentils add a nice texture.
To season the lentils, I decided to go with Indian spices- after all, they're the flavors I grew up with.
While the sweet potatoes were in the oven cooking, I simmered the lentils with onion, garlic and curry powder. At the end, I added a bit of coconut milk for extra flavor and creaminess.
The spices in the lentils are the perfect complement to the sweetness of the potatoes.
I only needed one last component to complete my dish- a dollop of Greek yogurt. It's not only a nice counterbalance to the spices, it also adds a boost of protein- perfect!
A final flourish of vibrant cilantro and my plant power bowl was complete!
More Vegetarian Recipes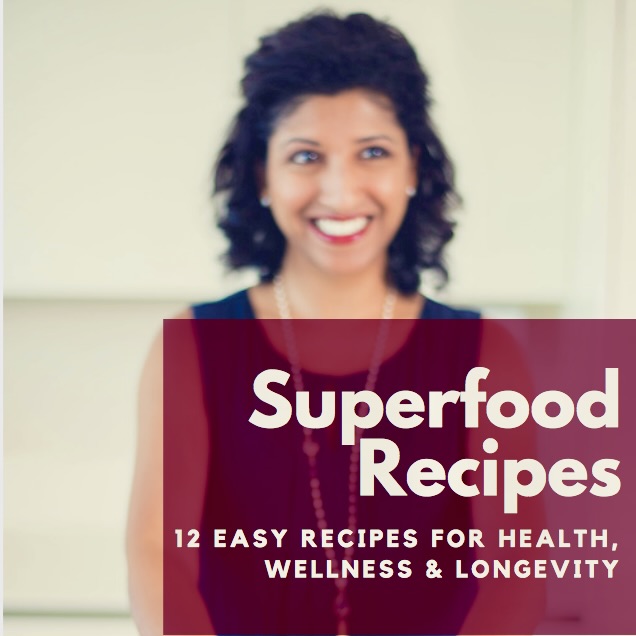 WANT MORE HEALTHY RECIPES?
Sign up for my email list and I'll send you my FREE Superfood Recipes eBook along with weekly recipes!
Vegan Stuffed Sweet Potatoes
Packed with nutrients, flavor and color, sweet potatoes are the perfect edible bowl for creamy, spiced lentils.
Print
Pin
Rate
Ingredients
4

medium sweet potatoes, scrubbed clean

1

tablespoon

olive oil

¾

cup

finely chopped onion (about ½ medium onion)

1

clove

garlic, finely chopped

1

tablespoon

curry powder

1

cup

lentils du Puy (French green lentils)

3

cups

water

½

cup

coconut milk

½

teaspoon

kosher salt

¼

teaspoon

black pepper

½

teaspoon

red or white wine vinegar

¼

cup

vegan yogurt or coconut milk

Cilantro leaves, for garnish
Instructions
Preheat oven to 400°F.

Pierce the sweet potatoes several times with a knife. Place them on a lined baking sheet and bake in the oven until soft, about 45 minutes. Remove from oven and let cool slightly.

While the sweet potatoes are baking, make the lentils. Heat the oil in a medium saucepan over medium heat. Add the onion and cook a few minutes until they start to soften. Add the garlic and curry powder and cook another minute until fragrant. Add the lentils and water and bring to a boil. Reduce to a simmer and cook 30 minutes, stirring occasionally.

Stir in the coconut milk, salt, pepper and vinegar and simmer another 5-10 minutes until the lentils are creamy and fully cooked (they will still have a little bite).

Cut a slit lengthwise down the sweet potatoes and spread them open. Mash the flesh with a fork to soften it and spoon the lentils on top. Add a dollop of vegan yogurt or a drizzle of coconut milk to each one and top with fresh cilantro.
Nutrition
Calories:
445
kcal
|
Carbohydrates:
80
g
|
Protein:
18
g
|
Fat:
6
g
|
Saturated Fat:
2
g
|
Polyunsaturated Fat:
1
g
|
Monounsaturated Fat:
3
g
|
Cholesterol:
1
mg
|
Sodium:
456
mg
|
Potassium:
1292
mg
|
Fiber:
22
g
|
Sugar:
12
g
|
Vitamin A:
32106
IU
|
Vitamin C:
10
mg
|
Calcium:
133
mg
|
Iron:
6
mg
Loved this Recipe? Click on the stars and rate it!