Did you know that whole grains have high amounts of fiber, vitamins, minerals and antioxidants, which help reduce your risk of chronic disease? Find out everything you need to know about whole grains PLUS get the recipe for my healthy and flavorful Farro Salad with Corn, Tomatoes and Edamame.
It's no secret that whole grain products such as whole wheat flour and brown rice are better for you than refined grain products like all-purpose flour, white bread and white pasta. In fact, the most recent Dietary Guidelines for Americans, released in January 2020, recommend that all adults eat at least half their grains as whole grains. That's at least 3-5 servings of whole grains each day.
Jump to:
Whole Grains vs. Refined Grains
Whole grains have high amounts of fiber, vitamins, minerals and antioxidants, which help reduce your risk of diseases like heart disease, diabetes and obesity. People who eat whole grains on a regular basis have a lower risk of many chronic diseases.
By replacing refined grains with whole grains, you can improve your total cholesterol, LDL ("bad") cholesterol, hemoglobin A1C (a measure of long-term blood sugar control) and C-reactive protein (a measure of inflammation). Pretty impressive, right?
Refined grains, on the other hand, are milled, a process that strips away the most nutritious parts of the grain. The refining process results in a product with a lighter texture and longer shelf life but significantly less fiber and nutrients.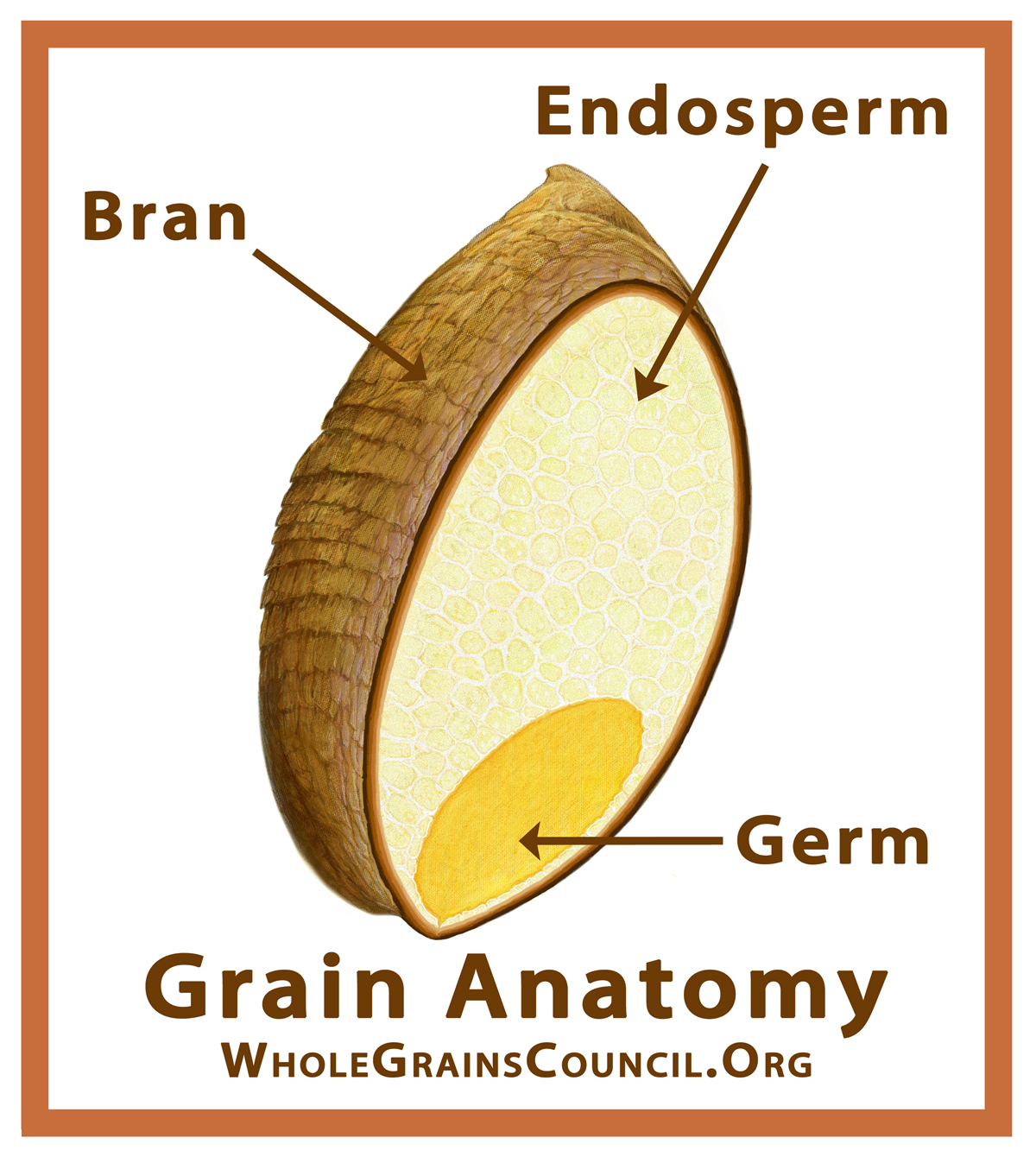 A grain is considered a whole grain when it has all 3 original parts (the bran, the germ and the endosperm) in the same proportions as when it was growing in the fields.
Refined grains like white rice and white flour have had some of these layers removed.

Look for the word "whole" in the ingredient list when you're grocery shopping (Whole grain pasta, whole wheat flour, etc).
Easy Whole Grain Swaps
Brown rice, wild rice, quinoa, barley, bulgur or farro instead of white rice
Whole wheat bread, muffins or bagels instead of white bread
Whole wheat pasta instead of white pasta
Whole grain breakfast cereal instead of sugary cereals
Popcorn instead of potato chips
Choosing brown rice or whole wheat bread is a great start but what other whole grain options are there? The good news is that there are many varieties of whole grains and they are becoming a lot more accessible in grocery stores.
Some Common Whole Grains:
Quinoa (pronounced keen-wa):
Quinoa is an ancient grain-like crop originating in South America that has become very popular recently because of its numerous health benefits.
Although quinoa is considered a whole grain, it's actually a plant that is closely related to beets, spinach, and Swiss chard.
It has a very high protein content and is the only grain that is a complete protein, meaning that it contains a balanced set of all nine essential amino acids. It's also gluten-free and easy to digest.
Quinoa comes in three main varieties- white, red and black. It only takes about 10-15 minutes to cook and has a fluffy, slightly crunchy texture and mild, nutty flavor. You can also buy quinoa flour, quinoa pasta and quinoa flakes.
Quinoa is a great choice for salads, pilafs, soups or as a binder for meatballs in place of breadcrumbs. Try my Quinoa Salad with Spinach and Strawberries, Quinoa Fried "Rice" or Black Bean & Quinoa Veggie Burgers.
Oats:
Oats are loaded with fiber, vitamins, minerals and antioxidants.
Most oats in this country are steamed and flattened to produce old fashioned, quick or instant oats. If you prefer a chewier texture, try steel-cut oats.
Steel-cut oats are whole oats that have been cut down in size with steel blades. They take a little longer to cook than old-fashioned oats but they make a delicious and hearty breakfast dish.
Try grinding old-fashioned oats up and using them as a healthy coating on chicken breast or fish instead of breadcrumbs.
Try my delicious Peach Baked Oatmeal, Savory Oatmeal Breakfast Muffins or Strawberry Oatmeal Blender Pancakes.
Barley:
One of the oldest cultivated grains, barley comes in several different varieties.
Hulled barley is covered barley that has been minimally processed to remove only the tough inedible outer hull leaving the bran layer intact.
Pearl barley, which is the most common type sold in stores, has been polished, or "pearled" to remove some or all of the bran layer along with the hull. Technically this means pearl barley is a refined grain but it's still healthier than other refined grains because some of the bran may still be present and it is still high in fiber.
Barley is also sold as quick barley, barley flakes (similar to oats), barley flour and Scotch barley (which are coarsely ground).
It has a mild nutty flavor and chewy texture that's good in soups, stews, risottos, or breakfast cereal. Try my Barley Salad with Roasted Carrots and Chickpeas.
Bulgur:
Bulgur is made from wheat kernels that are steamed, dried and cracked.
Bulgur is common in Middle Eastern dishes like tabbouleh, a salad made with vegetables and fresh herbs. Most types of bulgur only need to be soaked to become tender. This makes it a great option for a nutritious side dish on a busy weeknight.
Wild Rice:
Despite its name, wild rice is not a rice at all but rather the seed of an aquatic plant native to the Great Lakes region of the US. It is very high in protein, more than twice that of brown rice.
Wild rice is usually sold in blends with other types of rice because of its high price and strong flavor. Its dark color adds striking appearance to dishes like pilafs and salads.
Farro:
Farro is an Italian grain made from emmer, an ancient strain of wheat. Farro cooks in about 30 minutes and has a pleasant, chewy texture.
Similar to barley, to get the whole grain benefits of farro you want to look for products labeled "whole" farro rather than "pearled," which has had some of the bran layer removed. Try farro in salads and baked casseroles.
Try my Blueberry Farro Salad or Beyond Meat Holiday Farro Bowl.
This is just a short list of whole grains. There are many others including less common grains like amaranth, millet, spelt, grano and kamut. Not sure how to get started? Use my recipe for Farro Salad with Corn, Tomatoes and Edamame as a starting point.
Farro Salad with Corn Tomatoes and Edamame
To ensure that your salad has lots of flavor, season the cooking liquid when cooking the farro or whatever grain you are using. Also, be sure to toss the cooked grains with the dressing while it's still warm so that it fully absorbs it.
Use ingredients with varied flavors, colors and textures like fresh vegetables, crumbled cheese and chopped nuts. And finally, toss in some fresh herbs for an extra pop of flavor.
More whole grain recipes
Recipe
Farro Salad with Corn, Tomatoes and Edamame
This hearty and nutritious salad features whole grain farro, colorful vegetables, crumbled cheese, and fresh herbs for a pop of flavor!
Print
Pin
Rate
Ingredients
1

cup

farro

4

cups

water

1

teaspoon

kosher salt

1

clove

garlic,

smashed

1 ½

cups

cooked corn

(I grilled fresh corn and then cut the kernels off)

8

ounces

grape tomatoes,

halved (about 1 ½ cups)

1 ½

cups

edamame,

cooked

⅓

cup

chopped parsley

1

ounce

feta cheese,

crumbled
Sherry Vinaigrette:
2

tablespoons

sherry vinegar

2

tablesooons extra virgin olive oil

½

teaspoon

Dijon mustard

¼

teaspoon

kosher salt

⅛

teaspoon

black pepper
Instructions
Place the farro, water, salt and garlic in a medium saucepan and bring to a boil. Reduce heat to a simmer, cover and cook until farro is done, 25-30 minutes. Drain the farro.

Meanwhile, make the sherry vinaigrette. Place the vinegar, oil, mustard, salt and pepper together in a small jar or other container with a lid. Cover and shake until combined. Alternatively, you can whisk the ingredients together in a bowl.

Stir the warm farro together with the vinaigrette, corn, tomatoes, edamame and parsley in a large bowl. Adjust seasoning to taste. Sprinkle cheese on top. Serve salad warm or chilled.
Nutrition
Serving:
0
g
|
Calories:
234
kcal
|
Carbohydrates:
30
g
|
Protein:
10.9
g
|
Fat:
7.6
g
|
Saturated Fat:
1.4
g
|
Polyunsaturated Fat:
0
g
|
Monounsaturated Fat:
0
g
|
Trans Fat:
0
g
|
Cholesterol:
0
mg
|
Sodium:
0
mg
|
Potassium:
0
mg
|
Fiber:
5
g
|
Sugar:
0
g
|
Vitamin A:
0
IU
|
Vitamin C:
0
mg
|
Calcium:
0
mg
|
Iron:
0
mg
Loved this Recipe? Click on the stars and rate it!