My Healthy Jambalaya is lighter than the traditional dish but packed with amazing flavor! It's a perfect one-pot meal that the whole family will love.
You gotta love one-pot meals, especially on busy weeknights. I love being able to throw all my ingredients into one pot and let it simmer away on the stove while I take care of other things.
Some of my favorite one-pot dishes are my Marry Me Chicken, Easy Healthy Chicken and Dumplings, and my Award-Winning Shrimp Saganaki (Greek Shrimp with Feta). And now, my family's new favorite one-pot dish is this Healthy Jambalaya!
What is jambalaya?
Jambalaya is a classic New Orleans dish made with rice, vegetables and meat- usually a combination of sausage with chicken or shrimp. There are different varieties of jambalaya but the base of the dish that all versions share is the "holy trinity. " The holy trinity is a mixture of onion, green bell pepper, and celery that are the foundation of many Cajun/Creole dishes.
Jambalaya is a perfect one-pot meal! Once you get all of the ingredients in the pot, it can just simmer away on the stove while you take care of other things. It's a dish that the whole family will love.
Why this jambalaya is healthy
Here are the reasons why my Healthy Jambalaya is not only healthier than the traditional dish but also packed with flavor:
Smoked turkey sausage instead of pork. Andouille sausage is traditionally used in jambalaya but it is high in fat. Smoked turkey sausage is readily available in most grocery stores, has great flavor and less than half the fat of the pork version. If you're a purist, go ahead and use the Andouille- just use a little less of it.
Brown rice instead of long grain white rice. Brown rice takes a little longer to cook but it's so much better for you than white rice. In fact, the USDA Dietary Guidelines recommend that at least half of all the grains you consume should be whole grains. Whole grains have high amounts of fiber, vitamins, minerals and antioxidants. On the other hand, refined grains like white rice, are milled, a process that strips away the most nutritious parts of the grain.
Olive oil instead of butter. Cooking the vegetables and meat in olive oil instead of butter replaces cholesterol-raising saturated fat with heart healthy monounsaturated fat.
Red or orange bell peppers instead of green. Of course the holy trinity includes green bell peppers but I prefer to use red or orange peppers. They are the more mature version of green peppers and are sweeter in taste. They are also higher in several nutrients including Vitamins A and C and several antioxidants.
Quick homemade shrimp stock. I'm always looking for ways to infuse extra flavor into a dish without adding calories. Keep the shells from your shrimp and make a quick shrimp stock by simmering the shells in the chicken stock. It will add a rich, shrimp flavor to your dish.
Diced fire roasted tomatoes. To add even more flavor, I use canned fire roasted tomatoes. They add a nice smoky flavor that complements the smoky sausage and the other ingredients in the dish.
More One Pot or One Pan Meals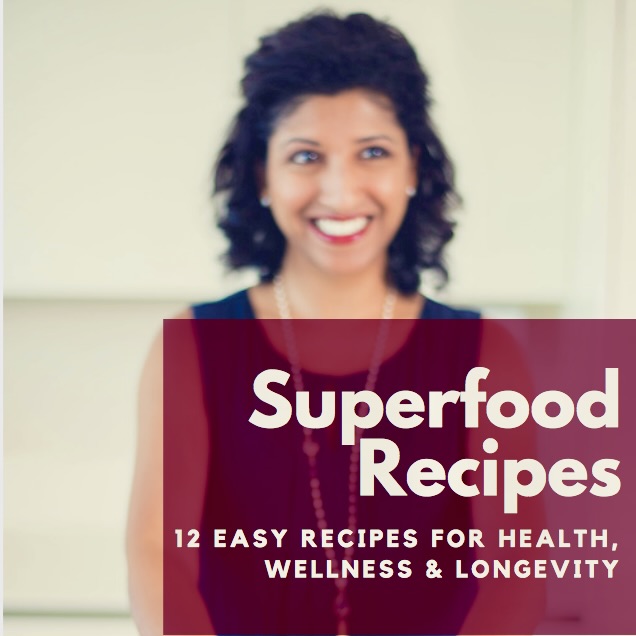 WANT MORE HEALTHY RECIPES?
Sign up for my email list and I'll send you my FREE Superfood Recipes eBook along with weekly recipes!
Healthy Jambalaya
My Healthy Jambalaya is lighter than the traditional dish but packed with amazing flavor! It's a perfect one-pot meal that the whole family will love.
Print
Pin
Rate
Ingredients
¾

lb

large shrimp (20-24 count),

peeled and deveined, shells reserved

3

cups

low sodium chicken broth or water

1

tablespoon

olive oil

8

ounces

smoked turkey sausage (cooked),

sliced into ¼-inch rounds

1

medium yellow onion,

chopped

1

red or orange bell pepper,

chopped

3

stalks celery,

chopped

Kosher salt and freshly ground black pepper

3

garlic cloves,

chopped

1

Tbs

tomato paste

1

bay leaf

2

tsp

chopped, fresh thyme or ¾ teaspoon dried

½

tsp

dried oregano

¼

tsp

cayenne pepper

½

teaspoon

Tabasco or other hot sauce

1

can (14.5 oz) diced fire roasted tomatoes

1 ¼

cups

brown rice

1

Tbs

lemon juice

4

scallions,

sliced
Instructions
Make a shrimp stock by placing the shrimp shells in a medium saucepan with the chicken broth or water. Bring to a boil then lower the heat until the liquid is gently simmering. Simmer 20 minutes then strain the liquid, reserving it. Discard the shrimp shells.

Meanwhile, heat the olive oil in a large Dutch or heavy-based pot. Add the sausage and brown on both sides, 3-4 minutes. Add the onion, peppers and celery and season them with salt and pepper. Cook 5-6 minutes until they start to soften and then stir in the garlic and tomato paste. Cook another 2 minutes, then add the bay leaf, thyme, oregano, cayenne and Tabasco. Stir in the tomatoes along with their juices and the rice.

Pour the chicken broth into a measuring cup and if needed, add enough water so that you have 3 cups of liquid. Add the liquid to the pot and stir to combine all the ingredients well. Taste the liquid and season it with salt and pepper to taste. Bring the liquid to a boil, then lower to a simmer, cover the pot and cook until rice is just cooked through, about 50-55 minutes. Stir in the shrimp, lemon juice and half the scallions. Cover the pot and cook another 7-8 minutes until the shrimp are pink and cooked through. Uncover the pot and cook another few minutes until any extra water is evaporated.

Garnish jambalaya with reserved scallions before serving. Serve with hot sauce on the side if desired.
Nutrition
Serving:
0
g
|
Calories:
480
kcal
|
Carbohydrates:
66
g
|
Protein:
30.8
g
|
Fat:
10.5
g
|
Saturated Fat:
2.5
g
|
Polyunsaturated Fat:
0
g
|
Monounsaturated Fat:
0
g
|
Trans Fat:
0
g
|
Cholesterol:
0
mg
|
Sodium:
0
mg
|
Potassium:
0
mg
|
Fiber:
6.5
g
|
Sugar:
0
g
|
Vitamin A:
0
IU
|
Vitamin C:
0
mg
|
Calcium:
0
mg
|
Iron:
0
mg
Loved this Recipe? Click on the stars and rate it!