Your whole family will love these Spiced Cod Sliders that are packed with color, flavor and important nutrients.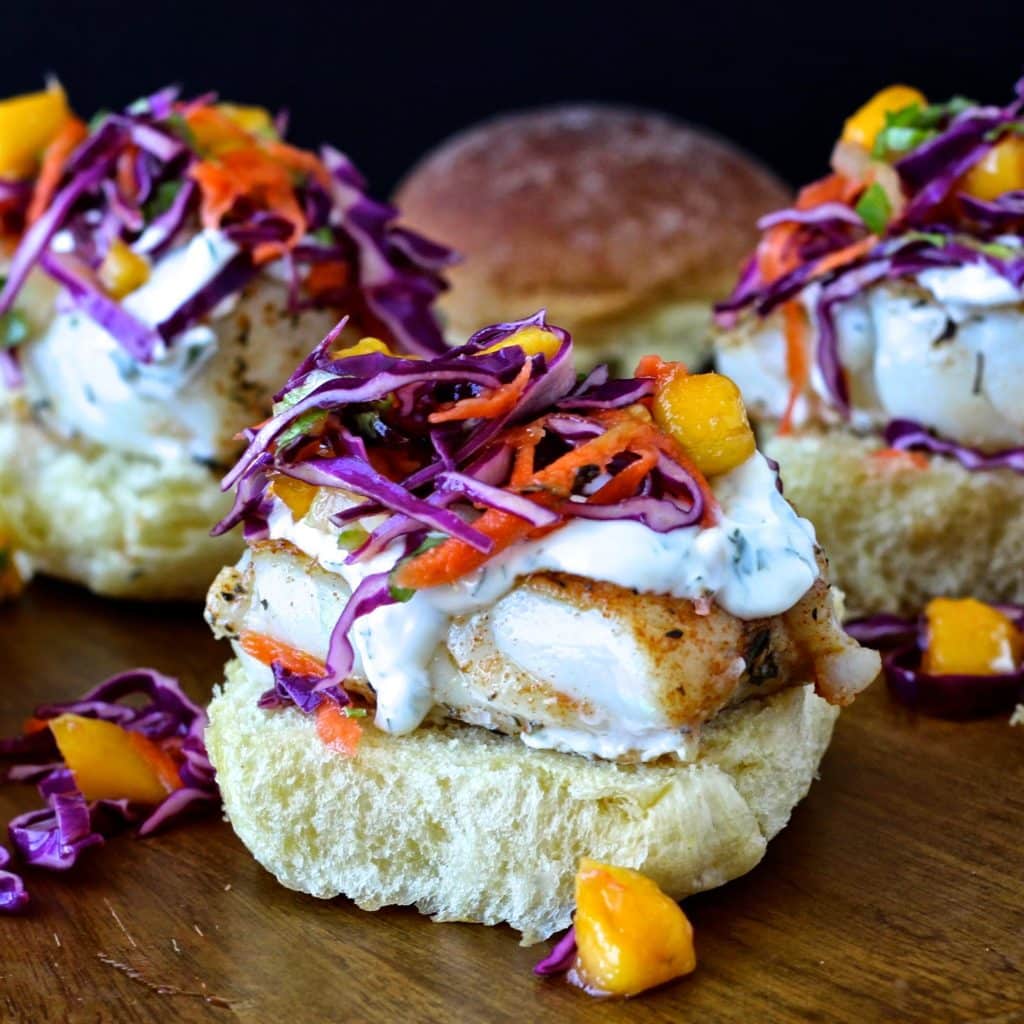 We eat a lot of seafood in my house. Not only is it nutritious, seafood is quick and easy to cook, which makes it perfect for weeknight meals. Now that I have a toddler, I appreciate this even more. On most nights, I turn to family-friendly dishes that I know I can get on the table in a short amount of time.
Sometimes you have to get creative when you have a toddler. Even though I've taken care to expose my daughter to a wide variety of nutritious foods from an early age, she still has her inevitable "picky eater" days. When she goes through these phases, I try to introduce her to new foods and flavors by using fun and exciting presentations. Seafood is extremely versatile and can be cooked in so many different ways. If you're worried that your kids won't eat fish, try introducing it to them by incorporating it into familiar dishes. Need some ideas? Make homemade pizza with your kids and let them top it with fresh seafood like shrimp or clams. Try making nutritious baked fish sticks and serve them with colorful dipping sauces. Add fresh seafood to your child's favorite pasta dish. Fish tacos are always a hit. How about swapping in fish the next time you make meatballs or burgers?
My Spiced Cod Sliders with Mango Confetti Slaw and Cilantro Aioli are colorful, flavorful and sized perfectly for little hands! I decided to use Alaska cod for this dish. Commonly used in dishes like fish and chips, cod is a white fish with a firm, flaky texture and mildly sweet flavor. It's a versatile fish and adapts to most cooking methods like sautéing, baking, poaching and frying. Alaska cod is harvested seasonally and flash frozen to maintain the highest quality and taste.
I've been a fan of
Alaska seafood
for a long time because of its health benefits, superior flavor and
conservation practices. Did you know that Alaska supplies nearly 60% of the nation's seafood and about 90% of North America's salmon? Alaska seafood is available fresh, frozen and canned so you can enjoy it year round.
Alaska seafood is high in protein, low in saturated fat and low in sodium. It's also one of the best sources of heart-healthy omega-3 fatty acids. To read more about the health benefits of omega-3 fatty acids,
CLICK HERE
. In addition, it's full of high quality vitamins, mineral and oils that are essential to good health.
Alaska's waters are among the cleanest in the world. The cold water and natural environment produces seafood with lean flesh, firm texture and superior flavor. Also, Alaska's fishing methods are anchored in strict conservation practices as well as the State Constitution. This helps to ensure that the delicious
Alaska seafood
you enjoy today will be enjoyed for generations to come.
Spiced Cod Sliders with Mango Confetti Slaw and Cilantro Aioli
Your whole family will love these sliders that are packed with color, flavor and important nutrients.
Ingredients
Spiced Cod:
1 ½

pounds

wild Alaskan cod fillet

1

teaspoon

paprika

1

teaspoon

dried thyme

1

teaspoon

onion powder

½

teaspoon

garlic powder

½

teaspoon

kosher salt
Mango Confetti Slaw:
2

tablespoons

lime juice

1

teaspoon

honey

2 ½

cups

shredded red and green cabbage and carrots

(can use packaged coleslaw mix)

1

cup

diced mango

1/8

teaspoon

kosher salt
Cilantro Aioli:
6

tablespoons

reduced fat Greek yogurt

2

tablespoons

mayonnaise

2

tablespoons

chopped cilantro

½

teaspoon

lime juice
Other:
1

tablespoon

olive oil

8

slider rolls
Instructions
To make the Mango Confetti slaw, whisk the lime juice and honey together in a bowl. Add the vegetables, mango and salt and toss to combine.

To make the Cilantro Aioli, mix the yogurt, mayonnaise, cilantro and lime juice together in a bowl.

To make the spiced cod, cut the fish into 8 equal pieces. Make a spice rub by combining the paprika, thyme, onion powder, garlic powder and salt together in a small bowl. Sprinkle both sides of the fish with the spice mix, rubbing it in. Heat the oil in a large nonstick skillet over medium heat and add the cod. Cook 4 minutes then carefully flip the pieces over and cook another 3-4 minutes or until fish is cooked through.

To assemble the sliders, place each piece of spiced cod on a slider roll bottom. Top with a dollop of cilantro aioli and some mango confetti slaw. Add the roll tops and serve.
Nutrition
Calories:
325
kcal
|
Carbohydrates:
41
g
|
Protein:
21
g
|
Fat:
8
g
|
Saturated Fat:
1
g
|
Polyunsaturated Fat:
2
g
|
Monounsaturated Fat:
3
g
|
Trans Fat:
1
g
|
Cholesterol:
39
mg
|
Sodium:
259
mg
|
Potassium:
406
mg
|
Fiber:
4
g
|
Sugar:
20
g
|
Vitamin A:
3314
IU
|
Vitamin C:
15
mg
|
Calcium:
81
mg
|
Iron:
3
mg